When it comes to choosing a new pair headphones, there's a few different options to choose from. Earbuds vs. over-ear? Wired or true wireless? What's the difference between closed-back and open-back headphones? Let's take a look at the benefits and drawbacks of each so you can choose the best option for your needs.
Closed-Back vs. Open-Back Headphones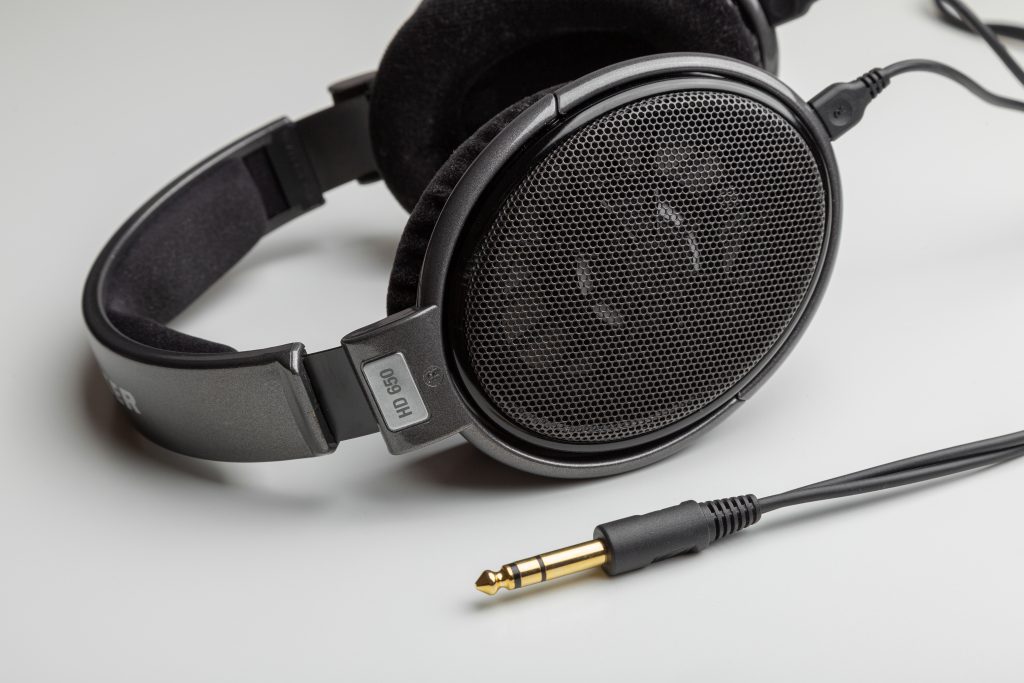 For the ultimate listening experience, closed-back vs open-back compete for the attention of musicians and audiophiles alike. While both provide excellent listening experiences, your choice may come down to the type of work you are doing.
Closed-Back Headphones
Closed-back headphones are designed to be a "closed" system. They only allow sound where it reaches your ear because they completely seal around the back. This means they provide considerably more noise-cancellation and better sound isolation. They allow the listener to really hone in on the sound, which is extremely important for musicians and recording artists. You can focus on the instruments or vocals without external distraction. Minimal noise leakage also means escaped sound doesn't make its way back into a recording. Closed-back are also a great choice for any listener who wants to appreciate great music without disturbing others. You can have a private listening experience even in public settings.
Open-Back Headphones
As the name suggests, open-back headphones have an "open" ear cup and allow air to pass through. This gives a natural, clear, and even airy sound because there isn't as much resonance and low-frequency build-up. Open-back ones are often preferred by audio engineers for mixing and remastering in studios, due to the clear sound. Whereas closed-back headphones sometimes have frequency buildup which can affect the "true" sound, musicians can trust the sound of open-back to be more accurate. If you consider yourself an audiophile who wants to pick up on every nuance and detail of the music, open-back will give you a true, flat sound. However, they are not necessarily a good choice for commuting, public spaces, or work environments, because the sound does escape.
On-Ear, Over-Ear, In-Ear or Earbuds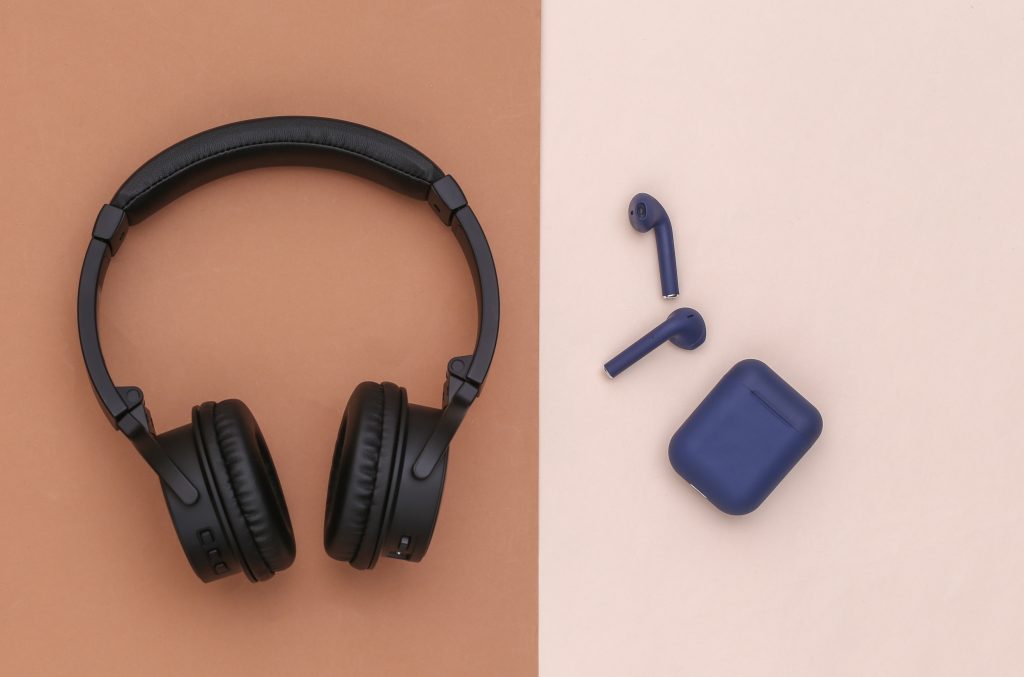 When it comes to comfort and style, there are a variety of options available. The style of headphones you choose is likely going to come down to what you think is most comfortable and conducive to your personal tastes.
On-Ear Headphones
On-ear headphones rest on your ears and are usually smaller and lighter than their over-ear headphone counterparts, which are discussed next. They provide a listening experience similar to open-back headphones. Thus, allowing some external sounds in, and some of your sound to escape. However, they are typically considered comfortable, as long as you find a pair that doesn't place too much pressure on your ears. Choosing a quality pair will give you great sound quality and comfort, so on-ear is a great choice for casual listening or a compact style of headphones for portability.
Over-Ear Headphones
The over-ear headphones provides full coverage of the ear, cupping it with the intention of providing more sound isolation. It provides more noise reduction than on-ear, and this style comes closed-back, which helps further create an intimate listening environment. They are a little larger, bulkier, and heavier than other headphone styles. Their design means less air circulation, which increases the likeliness that you will sweat more. These factors can mean that long listening or gaming sessions can end with pressure or fatigue from the headphones, but again, finding a quality pair will provide you with as much comfort as possible.
In-Ear Headphones
For portability and quality combined, you cannot go wrong with in-ear headphones. Also known as canal phones, in-ear go a little bit into the canal of your ears, resting inside, closer to your eardrums. The in-ear headphone style is versatile. Its professional, high-quality sound makes it easy for musicians to work on the go. Indeed, they provide sound isolation and minimal sound leakage. For comfort, they usually have a silicone ear tip, and as long as the volume is appropriate, they are considered safe. Their compact size means they are an excellent choice for the gym or frequent traveling.
Earbuds
Earbuds are different than earphones because they do not enter the ear canal as much, but instead, earbuds rest on your outer ear. This will allow more sound from the external environment, so the listening experience may not be as pristine as with earphones, but they also allow more leakage, giving off the flat sound many people prefer. Some earbuds will come with different ear tips, so you can change them to find the most comfortable fit. Earbuds are a solid choice for those that prefer high portability but find earphones a bit intrusive or uncomfortable.

Wireless vs. True Wireless vs. Wired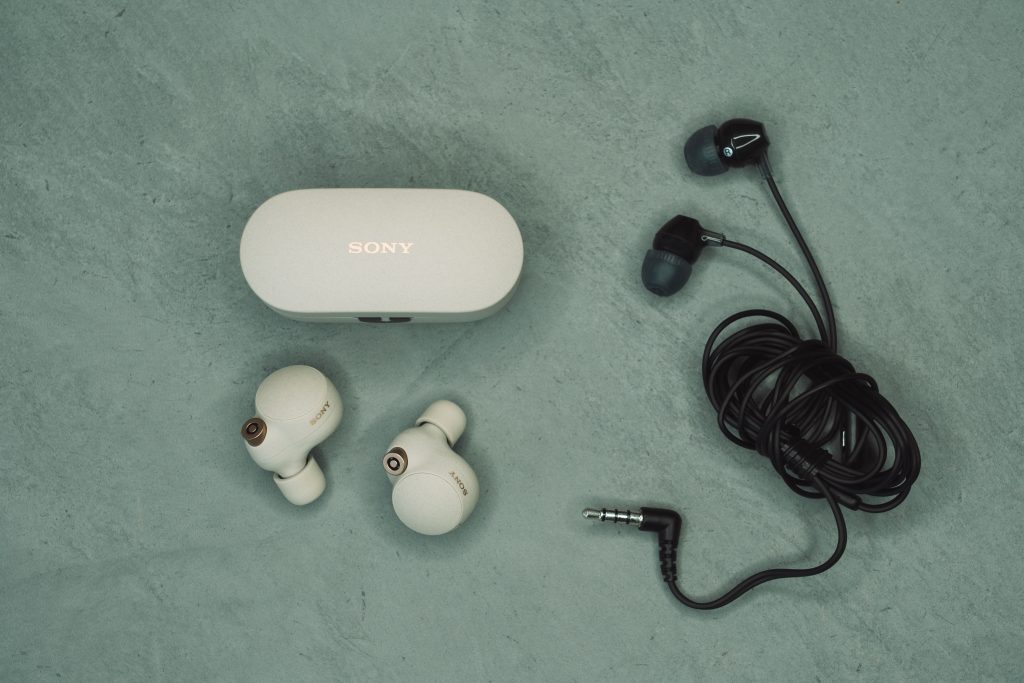 Wireless
Wireless headphones lack the connecting wire that plugs into your phone or stereo system and can be connected "wirelessly" via Bluetooth. The earpieces connect in some way, such as an over-the-head connector or around the back of the neck.
True Wireless
Headphones or earphones that do not have any wires, including a cable or connecter between the earpieces, are considered truly wireless. The lack of cords can be a benefit when working out or moving about frequently.
Wired Headphones
Wired headphones which plug into a jack offer longer use time, without worrying about battery life. One of the biggest arguments in favor of wired ones is the sound quality. Indeed, manufacturers can focus on sound instead of wireless technology. This means they are often less expensive than wireless options as well.
Find the Perfect Headphones at FlexShopper
Whether you need new headphones for the gym or work, for music, podcasts, or tuning in to online meetings, FlexShopper has a wide selection, so you can find the perfect pair for your lifestyle.
FlexShopper has easy weekly payments that will work for any budget, and with thousands of products to choose from, we have everything you need for your music, entertainment, and household needs! Contact us for more information today!