With the big game right around the corner, even casual football fans will be tuning in to watch the Kansas City Chiefs take on the Tampa Bay Buccaneers on Sunday, February 7th. Whether you're planning on simply tuning in from your couch or having a huge blowout with your crew, there are a few must-have items for every big game celebration. Read on to learn about how to prepare to watch (or listen to) the game in style!
Best Game Watching TVs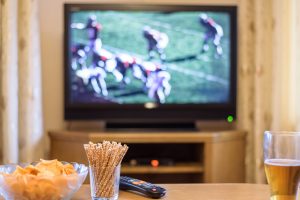 Your television is an essential part of any football event. But who wants to watch the game on a small or blurry screen? A brand-new television can really bring the game right into your living room and can continue to deliver a great picture for years to come. But what TV is the best option for sports fans? Here are some of the most popular kinds of televisions on the market right now:
4K – An ultra-high-definition 4K TV like this LG 55″ 4K smart TV can give you the best view of the game from the comfort of your couch. While not everything is currently broadcast in 4K, the big game will be! With sizes up to 80 inches available, you can ditch the small screen for good.
1080p – If you're looking for a more affordable option, a 1080p television like this VIZIO 40″ 1080p smart TV still offers a step up from 720p resolution. It'll give you a great high-definition picture without the huge price tag of a 4K television. Like 4k TVs, 1080p models come in a variety of sizes so you can upgrade your game-watching experience.
No matter which model you choose, your new television will be the centerpiece of the party and can help bring you closer to the action on game day.
Sound and Audio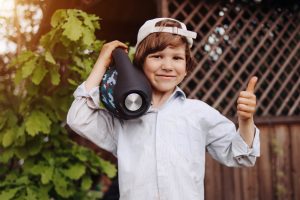 Just watching the game is nothing if you can't hear the roar of the crowd, the ref calls, and the Weeknd's sure-to-be-stellar halftime show. Great sound is such a big part of your viewing experience, so don't just upgrade your television, give your audio a boost as well. Surround sound options include soundbars and home theater systems that will make your game day fun even more exciting. A new sound system isn't just great for sports. Movie-watching, listening to music, and everything in between will be brought to life in a whole new way with a new speaker. Check out this CineHome II CineHub home theater or this powerful soundbar from Sony.
If at some point during the big game, you find yourself away from the television, a portable Bluetooth speaker can keep you connected. Speakers like this Megaboom 3 are a great option if you have someone handling snack prep in the kitchen or someone out in the backyard grilling up burgers or brats. With a Bluetooth speaker, you don't have to miss out on a minute of the game, even when you can't be in front of the TV. Simply set up a speaker in any other room where you can't see the TV. Bluetooth can transmit up to 30 feet, so you can broadcast audio from any Bluetooth compatible television, smartphone, or another device.
Indoor and Outdoor Furniture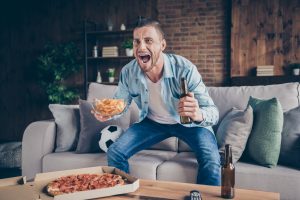 So, now that you've got your television and audio taken care of, it's time to take a look at your comfort. Even if you'll be jumping up and down to cheer, you'll need a place to plop down to watch all the fun commercials. A new couch can elevate your game-watching and make your entire living room cozier and more inviting for you and your family. If you want to cram the whole crew onto a huge, comfy couch, a sectional is a great option. Sectional couches offer plenty of space for everyone to stretch out and claim their own spot. Choose a stylish sectional like this Christopher Knight piece that matches your decor to breathe new life into your entire living room.
For those who are catching the big game from a warmer climate, new patio furniture can make your game day cookout a blast. Make sure to think about how many people you'll be accommodating, and grab a patio set that meets your needs like this wicker dining set, or build an entire outdoor living area with outdoor couches and conversation sets. You'll fall in love with outdoor entertaining when you have a space that suits your taste and style, and you'll be able to use and enjoy it all year round.
Appliances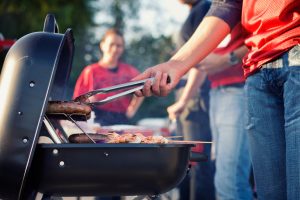 It just isn't game day without a wide selection of snacks to fulfill even the biggest appetites. But it's important to make sure that your kitchen can handle the crowd! Now is a great time to take a look at a new refrigerator like this LG stainless steel fridge to store all your snacks, drinks, and leftovers. It doesn't hurt to keep a cooler, like this one by YETI handy near the TV so you don't have to keep getting up to grab more beer or soda. This can help ensure that all your favorites stay chilled and fresh until you're ready to dig in. If outdoor dining is more your thing, a new grill like this Char-Broil Performance Series two-burner gas grill can feed the crowd in record time. Whether you love burgers, sausages, hot dogs, or steaks, a grill is the most important part of your cookout.
Some of the best game-day snacks, like guacamole, salsa, hummus, and icy mixed drinks are best made with a blender. An old or cheap blender won't be able to do the job well, but with a brand new one like this 72 ounce Ninja blender, you can whip up your faves in a breeze. Upgrade your kitchen in time for the big day to blow away the crowd!
Enjoy the Big Game Without Breaking the Bank
If you're in need of some new game day gear but are afraid of blowing your budget, FlexShopper can help! Get all the latest items you need for the big game at an affordable price. Our weekly payment plans are sure to be friendly on your budget. Make up to 52 weekly payments and then the item is all yours to keep! Get a spending limit of up to $2500 when you apply for FREE. Check out our selection of furniture, appliances, electronics, and more!