From obtaining the weather report to customizing lights and music, the versatile smart speaker has found its place as a helpful and entertaining device in today's households. Smart speakers are more popular than ever, as more consumers discover the conveniences and perks of using the devices in their connected homes.
Today's lower prices and brand choices make it a perfect time to consider purchasing a smart speaker. However, deciding which model to choose may be a daunting experience. Is one brand better than the other? Will it play nicely with my other devices? What about the services each provides? Let's take a closer look at what Apple, Amazon, and Google have to offer and which may be the most suitable choice for your home.
Apple HomePod Mini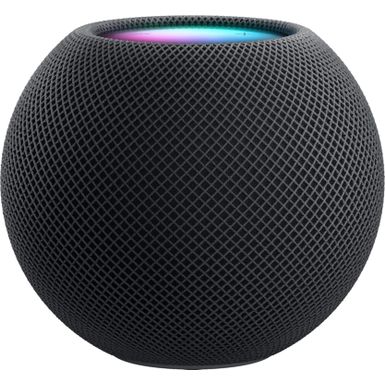 First up in our review is the newest entry into the smart speaker market, the Siri-powered Apple HomePod Mini. Apple's first entry into the smart speaker market was in 2018 with the HomePod, a beautifully designed smart speaker that offered excellent sound quality. However, most consumers were deterred from adopting this speaker due to the high price point. Enter the Homepod Mini, a compact smart speaker that's much more competitive against its lower-priced competitors.
Features
The first prominent feature of the HomePod mini is its unique spherical shape and reduced size. Standing at only 3.3 inches tall and just under 4 inches wide, it is significantly smaller than the competition. Its small size makes the Mini easy to fit unobtrusively anywhere in the home. The speaker features an acoustic fabric mesh overlay, available in white or space gray, a rubber bottom, and a glossy plastic top. The top of the Mini features a touch-sensitive area for playing and pausing music and volume adjustments. When Siri responds to commands, the top displays an eye-catching swirl pattern.
The mini features a considerably smaller speaker than the Echo or Nest Audio and has less advanced speaker components. However, it easily compensates with 360-degree sound and the power of an S5 chip that uses computational audio to analyze and adjust the music to suit any room acoustics. Its sound quality has been described as excellent with a clearer, less distorted sound than the Echo Dot and Nest Mini. For enhanced stereo sound, you can pair multiple HomePods together for larger room coverage.
Setup is a breeze and accomplished simply by bringing the iPhone or iPad near the HomePod. After confirming the Apple ID and Apple Music account as well as answering a few short questions on where it will be used, it's ready to go. Siri can then be asked to play requested selections from Apple Music, Spotify, Amazon Music, and other services, using the AirPlay function.
It's important to note, however, that the HomePod mini will not function without an iPhone or iPad on hand. As a result, the device is more targeted to the Apple ecosystem audience or those planning to expand into it with this purchase.

Amazon Echo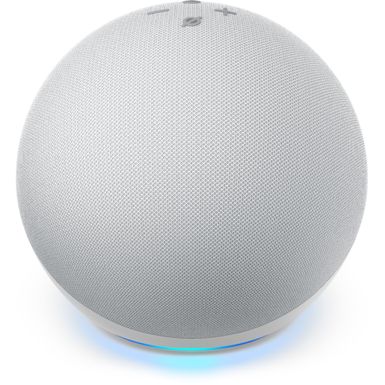 The next familiar name in smart speakers is Amazon's Echo and its smaller sibling, the Echo Dot. Unlike Apple's entry, Amazon's speaker is a good fit with any ecosystem, bringing along a more comprehensive selection of music and other apps. Both use Alexa as a virtual assistant to provide information, make calls, play music, and control other smart-connected devices.
Most of the features in the Echo are available without an Amazon Prime membership. However, as a Prime member, the perks include unlimited Amazon Music streaming, voice-controlled Amazon shopping, access to exclusive deals, and package tracking.
Features
The Echo now also features a spherical design much like the HomePod Mini, measuring 5.2 inches tall and 5.7 inches wide, taking up a bit more space than the generations before it. The Echo now features adaptive sound that adjusts to the acoustics of the room. It's 3-inch woofer and dual 0.8-inch tweeters improve the speaker's bass and midrange frequencies. These features combine to create better sound quality than the 2019 model. The Echo is undoubtedly more versatile in that it can stream from not only Amazon Music but also Apple Music, Spotify, and SiriusXM.
The new Echo uses the AZ1 Neural Edge processor, which is capable of machine learning. This component enables processing in the device itself as opposed to Amazon's servers. The advantage to this is more responsive speech recognition by Alexa. Speaking of Alexa, the virtual assistant does feature a broader repertoire of third-party skills than the HomePod and the Google Audio.
Another plus of the Echo is the ability to create a home theater group using Amazon's Fire Stick. Dual Echos can be used for stereo sound, though this setup requires a robust Wi-Fi network to work smoothly.
The Echo is available in standard charcoal, glacier white, and twilight blue.
Amazon Echo Dot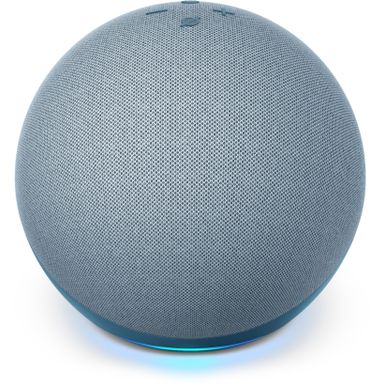 The Echo Dot is the smaller, budget-friendlier version of the Echo. A version with an LED dot-matrix clock display is available for slightly more, which can also display the weather and countdown timers. This 4th-gen Dot, however, does not offer much improvement over last year's version when it comes to music streaming. The only difference is the spherical-shaped speaker offering only a slight improvement in sound. However, for the price, the Echo Dot still delivers solid audio quality.
As is with the Echo, the Dot is Alexa-powered and works with the same music streaming services. Two Dots can be paired for a stereo effect to enhance the listening experience further.
The Echo Dot is also available in charcoal, glacier white, and twilight blue. The Dot featuring the clock is also available in twilight blue.
Google Nest Audio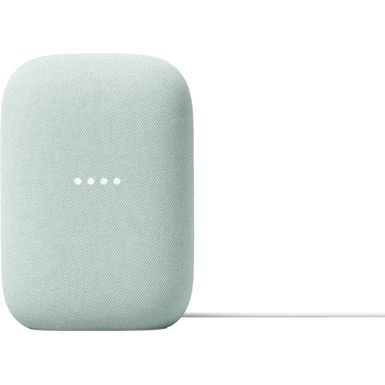 Rounding out the big four smart speaker selection is the Nest Audio from Google. At just 7 inches in height, the rectangular-shaped speaker is wrapped in the same fabric cover as the Nest Mini and made from 70% recycled materials. The Nest Audio is an improvement over last year's Google Home with a 75% increase in loudness and 50% stronger bass. The upgraded sound is a direct result of the 19 mm tweeter and a 75 mm woofer, 25 mm larger than the woofer used in last year's device.
The Nest Audio can be grouped with other devices such as the Mini, Hub Max, and Chromecast for the TV. However, for those hoping to fully integrate Nest into a smart home setup, it is recommended to purchase the Nest Hub that can fully integrate with more devices such as doorbells and cameras.
Features
Google's Nest Audio features Media EQ and Ambient IQ technology which adjusts the sound accordingly based on the type of audio and ambient noise in the house. When first used, the volume range is lower, but Nest advises that the Media EQ feature is still adapting to the types of music played. The Nest Audio can fully access music from Spotify, YouTube Music, and other services.
The Nest Audio uses Google Assistant which is linked to Google Search, to answer questions, play music, read the news, and other tasks. The Nest uses a dedicated machine learning chip to process queries locally and learn commonly used commands and requests. To properly setup a Nest Audio, both a Google account is required and a phone or tablet. If connecting to a TV, an Android device such as Google's Chromecast is required.
The Nest Audio is available in sand, sky, charcoal, and chalk.
Final Thoughts
Any of the above smart speakers would make a great addition to your home. However, there are some factors to consider when deciding which is right for you.
Apple's HomePod Mini can only be used as part of the Apple ecosystem, requiring an iPhone or iPad for setup, apps, and other tasks. While it has great sound, it works optimally with an Apple Music subscription, though other music services and collections are streamed through AirPlay.
Google's Nest Audio is the go-to choice for those already using or plan on installing Nest smart home products in the future. Those seeking to upgrade from Google Home will find that the Nest Audio has improved sound and is worth a closer look.
Finally, Amazon's Echo and Echo Dot features quality sound and Alexa's ability to connect to more smart home devices than the competition. With more power and improved sound, the latest Echo smart speaker overall would be the safest choice.
Still not sure which smart speaker to go with? Check us out! Flexshopper has easy weekly payments to suit any budget, and with thousands of products to pick from, we're sure to have the perfect smart speaker to fit your needs. Contact us today!