Sometimes… letting the robots in is a good thing. Though your pets might vote a hard "NO" on this intruder, an automated vacuum could be the helper you never knew you needed. We know you have questions (read on!), but really, when you hear "hands-off cleaning", don't you want to know more? So, why wait, find your favorite here and pay for it over time.
Perks of Living with a Robotic Vacuum
When it comes to these determined little cleaners, it's easy to get obsessed. Advances in technology have truly delivered set-it-and-forget-it confidence with today's robot vacuums.
Go! Live Your Life
At home? They work independently – you do whatever you want.
Away? Many have apps for scheduling cleanings with your smartphone!
Alexa, Clean My Floors
Boss it around: some models can pair with your smart speakers.
One command and Google Home or Amazon Alexa gets it done.
Pet Lovers ❤ these Things
Floof factor a daily hassle? Robot vacuum to the rescue.
Keep things less hairy in between deeper cleanings. Big difference.
Did You Say Self-Cleaning?
Good robot! Advanced models can even empty their own dustbins.
Go home now. Many robot vacuums are self-docking, too.
Small but Mighty
Goes where canisters can't! Compact enough to often fit under furniture.
Your back approves. No more moving everything you own just to vacuum!
They Know Their Way Around
Obstacles avoided! Auto-sense navigation provides a more efficient clean.
Keep-out zones? Yep, some let you tell 'em where they can and can't go!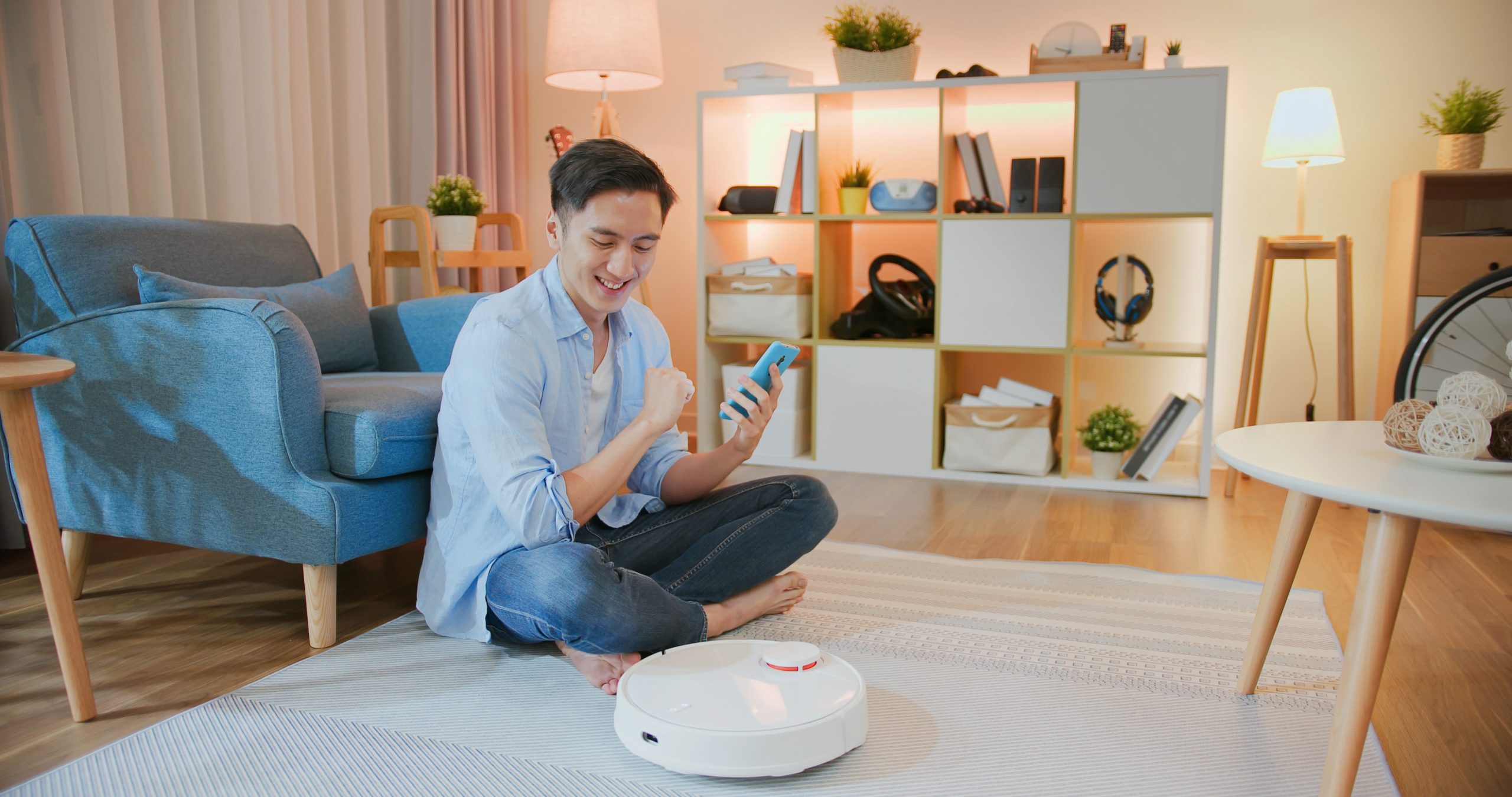 Ask Yourself This…
When choosing your robot vacuum, these questions help you fine-tune what's important for your lifestyle and home.
How well can it maneuver itself from carpets to rugs to hard floor surfaces?
If you have a larger home, how long is battery life and is a second vacuum needed?
Do you want a remote, smart speaker activation, auto-sense navigation, or
smartphone app?
Do you want it to be able to self-empty?
FlexShopper has a Robot Vacuum for Every Budget and Home
Read on to see which robot vacuum offers the features you want along with easy weekly payments to fit your needs.
iRobot Roomba i3+ Wi-Fi Connected Self-Emptying Robot Vacuum
Pair with Smart Speakers ✓    Control with an App ✓     Self-empties ✓
iRobot Roomba i3+ cleans in neat rows with premium 3-stage cleaning system
Multi-surface rubber brushes are ideal for cleaning surfaces with pet hair
Shark – ION Robot RV761
Control with an App or Voice Command ✓    Auto-Sense Navigation ✓
The Shark ION comes with side brushes, channel brushes, and multi-surface brushroll
Tackles debris on any floor surface, in corners, and around edges of walls/furniture
iRobot – Roomba i7 Wi-Fi Connected Robot Vacuum
Pair with Smart Speakers ✓    Designate Keep-Out Zones ✓     
Imprint Smart Mapping allows it to learn, map, and adapt to your home
iRobot Roomba i7 can link to Braava Jet m6 for vacuum/mop tag-team cleaning
Neato Robotics – D8 Intelligent Robotic Vacuum
Includes Eco & Turbo Modes ✓    Control with an App ✓    Extra-Large Dirt Bin ✓
D-shaped Neato D8 allows it to clean square corners with its brush placement
MyNeato app lets you schedule your cleaning routines and map areas
iRobot Robot Roomba j7+ Robot Vacuum
iRobot Genius Feature ✓    Self-empties ✓
iRobot Robot Roomba j7 anticipates what's needed to clean the way you would
Its ability to avoid pet waste is guaranteed (if it doesn't, they replace it for free!)
Shark – AIVACMOP Robot Vacuum and Mop RB2001WD
Pair with Smart Speakers ✓    Control with an App      
The Shark AI VACMOP is a 2-in-1 marvel — vacuums all floors, mops hard-floor surfaces
Use app to set cleaning schedule and declare 'no-mop zones'
Ecovacs – DEEBOT 600 Robot Vacuum
Smart Motion Feature ✓    Control with an App ✓     
The Ecovacs DEEBOT's multiple brushes sweep, lift and vacuum dirt, all at once
Utilizes Smart Motion to clean on a systematic path for efficient cleaning
Anti-collision and drop sensors help keep furniture and vacuum safe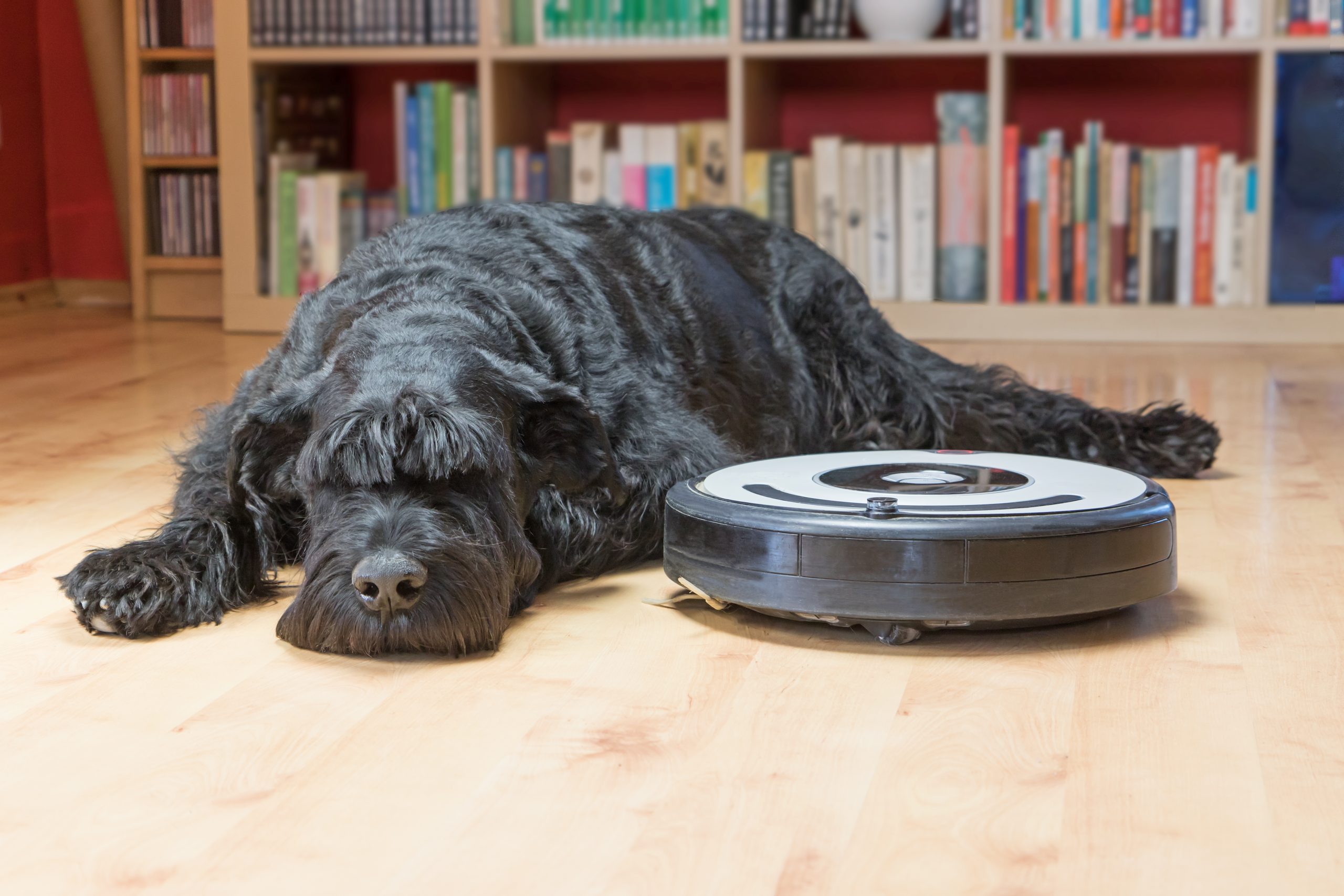 Now that "Self-cleaning" is Your New Favorite Word…
Let FlexShopper help you make it happen! With our quick and free application process, find the robot vacuum that fits your budget with affordable weekly payments. APPLY today to get started!