This is not a drill! It's the biggest game of the year and your celebration should match. A big undertaking, yes, but with a little planning and creativity, your party will be one to remember. Whether it's delicious food, exciting games, or a festive atmosphere, there are ways to make your party a hit without breaking the bank — and we can help! With FlexShopper, you can shop essentials that come with weekly payments that work for you. Let some extra time to pay help you enjoy your event with a little more peace of mind.
In this article, we'll explore some of the best ways to throw the greatest watch party ever, from choosing the perfect menu to setting the perfect ambiance.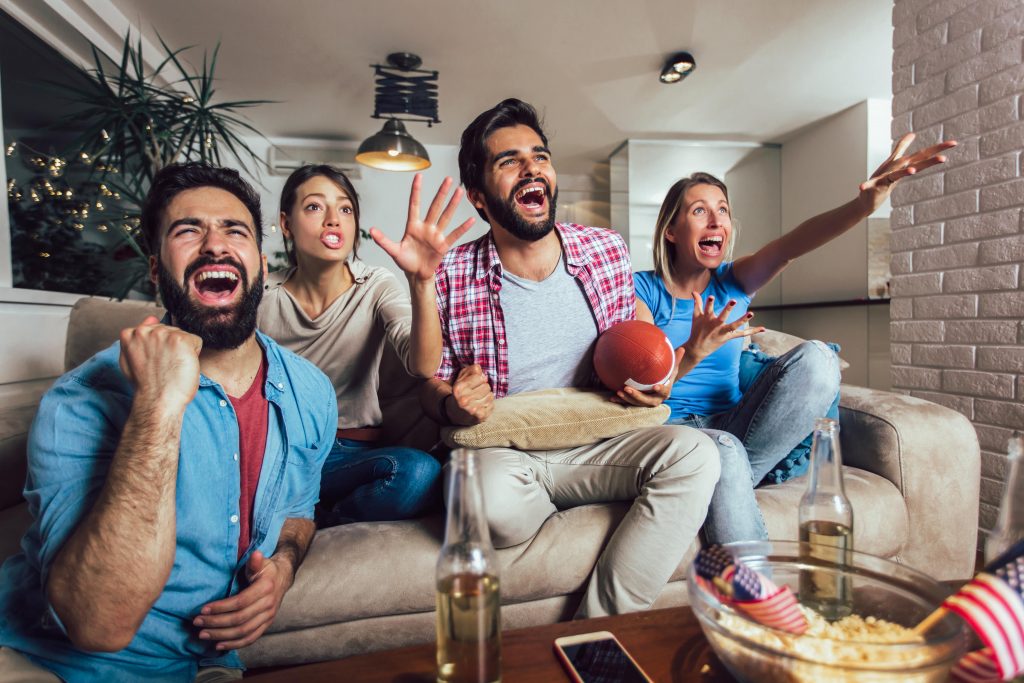 Start Early and Plan Ahead
The key to throwing an amazing game-day party is the prep. Start planning now to ensure you have enough time to gather all the necessary supplies and decorations. Here are a few things to keep in mind:
Set a Budget: Determine how much you're willing to spend on your party and stick to it (here's where those weekly payments can help). Suddenly, decisions around food, decorations, games, and party favors become clearer and easier
Make a Guest List: Decide who you want to invite to your party and how many people you can comfortably accommodate in your space
Prepare Ahead of Time: Whenever possible, prepare as much food and decorations as you can ahead of time. This will help you avoid last-minute stress and ensure that everything is ready for the big day
Have Backup Plans: Have a backup plan for things like bad weather or unexpected guests. This will help you stay relaxed so you can enjoy your own party
Have a Theme For Your Party
Creating a theme for your party can add an extra level of fun and excitement to the event. A theme creates a cohesive look and feel for your party, making it more memorable for your guests, and it's another great way to facilitate decisions around decorations, food, and games. Here are a few theme ideas to consider:
Classic Game Day: Go for the traditional Big Game party atmosphere with classic game-day decorations, such as team banners and pennants. Serve traditional game-day snacks and don't leave out the wings, nachos, and sliders!
Tailgate Party: Create a tailgate atmosphere with elements such as a portable grill, coolers, and lawn games. Serve up classic tailgate food like hot dogs, burgers, and BBQ
Sports Bar: Create the vibe of a sports bar at home with a big-screen TV, comfortable seating, and bar decor. Serve up pub favorites such as sliders, loaded fries, and beer
Hollywood Glam: Incorporate red-carpet and movie-inspired decorations for a glamorous Hollywood-themed party. Serve up fancy cocktails and hors d'oeuvres
Casino Night: Create a casino atmosphere with decorations like streamers, balloons, and playing cards. Serve snacks and drinks, and have casino games like poker, craps, and roulette for entertainment

Set Up a TV Area
The whole point of your watch party is to enjoy the game surrounded by friends and family. Setting up a TV area is crucial for an enjoyable viewing experience for your guests. Make sure you have a big enough TV for everyone to view the game easily along with enough seating for all to sit comfortably. Here are some tips:
Choose the Right TV: Make sure your TV is large enough for your guests to see from various angles and distances. A TV with a high resolution will also ensure that the game looks great on the big screen
Create a Comfortable Seating Area: Sofas, armchairs, and bean bags ensure your guests can sit back, relax, and truly enjoy the game
Position the Speakers Correctly: Make sure the speakers are positioned so that everyone can hear the game clearly without distraction
Have Multiple TVs: If you have a large guest list, having multiple TVs can ensure that everyone can see the game from different angles
Consider a Projector: If you have a large space, consider using a projector to display the game on a larger screen
In addition: some streaming services offer multiple camera angles and live commentary, so consider subscribing to one of these services to enhance your guests' viewing experience.

Serve Delicious Party Food and Drinks
Planning the menu can be a lot of fun, but can also be challenging. If you already have a theme, your selection of foods and drinks could already be set. But in most cases, you need to decide what kind of food you want to serve, whether it's traditional game-day fare or something more unique, while also considering any dietary restrictions of your guests. Here are a few tips for planning the perfect menu for your party:
Plan for Variety: Offer a variety of snacks, appetizers, and main dishes to suit different tastes. This will ensure that everyone finds something they like
Make it Easy to Eat: Make sure the food you serve is easy to eat while sitting and watching the game. Finger foods, dips, and sliders are good options
Use a Mix of Homemade and Store-bought Items: This is not only OK, it's a smart time-saver. You can make some items from scratch using an air fryer, and purchase others like chips, dips, and frozen appetizers
Drinks: Plan for a variety of drinks, including beer, wine, and cocktails. Also have non-alcoholic options like soda and water on hand, as well as an electric cooler within reach to keep everything chilled
Desserts: Consider having a variety of desserts for your guests to choose from — cookies, brownies, and cake are always sure hits. A frozen concoction maker might also come in handy

Plan Some Super Fun Activities
Create some fun activities and games for your guests, such as a pool for the game's outcome, a halftime show competition, or a touchdown dance-off. These are sure to add an extra level of laughter and excitement to your party. Here are a few ideas:
Football Pool: Create a pool where guests can pick the winner, final score, and other game-related outcomes for a small entry fee
Halftime Show: Whether it's a karaoke session, a dance-off, or a lip sync battle, everyone can get in on the fun
Trivia: Have a trivia game about the teams, the players, and the history of the game
Football Squares: Set up a Football Squares board where guests can purchase squares to win prizes during the game
Sports-themed Photo Booth: Set up your photo booth with props such as footballs, helmets, and jerseys for your guests to dress up in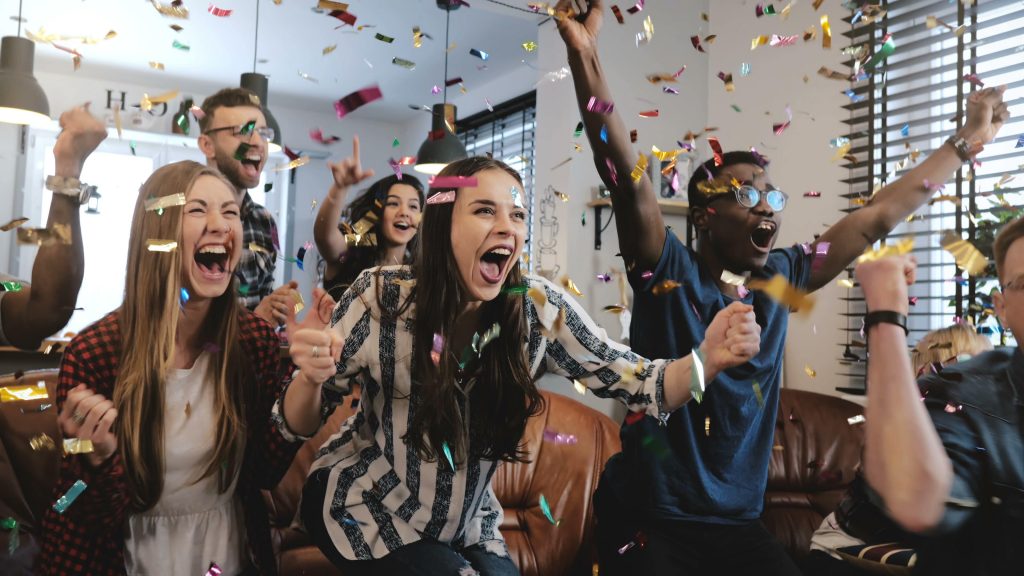 Create an Unforgettable Party Experience with FlexShopper
Throwing a hugely successful game-day party doesn't have to be expensive. Remember, it's not the cost of the party, but the company and the memories that will be cherished for a long time.
If you are looking for a way to finance your party and stay in-budget, consider using FlexShopper. It's an easy, flexible, and convenient way to pay for the latest electronics, appliances, and furniture you need. With FlexShopper, you can have the party of your dreams when you let weekly payments work for you!